What's the difference between directional, asymmetrical & symmetrical tread patterns?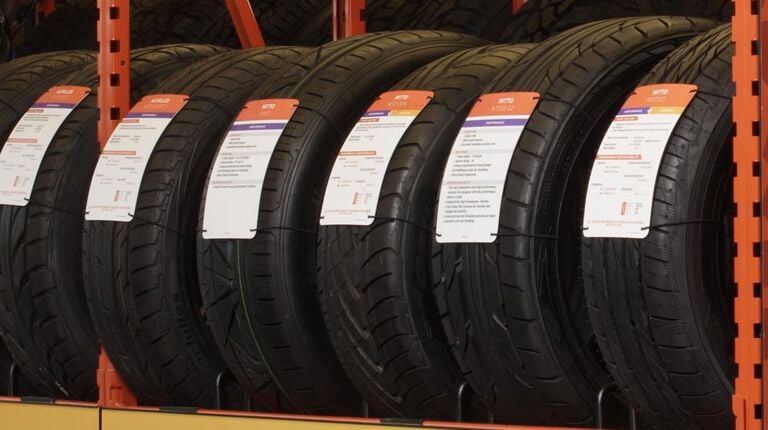 Are you on the hunt for new tires and wondering what it means when a tire has a directional, asymmetrical or symmetrical tread pattern?
Each of these tire tread designs incorporate specific features to deliver optimum performance in different weather conditions.
A tread design uses each of these four features to deliver certain capabilities, such as hydroplaning resistance or a smooth, comfortable ride.
1. Continuous ribs
2. Independent tread blocks
3. Circumferential (longways around the tire) and lateral (sideways should to shoulder) grooves
4. Sipes (thin openings that grab and expel water)
Here's a breakdown of the four types of tire tread designs and how they use these features.
Directional Tread Pattern
Directional tires are designed to roll only in one direction, and they can only be rotated from front to back, not side to side. That's why you'll see arrows on the sidewalls pointing in the direction that the tire needs to be mounted.
Features
Lateral grooves (sideways from shoulder to shoulder) point toward the centre of the tire, creating a 'v' shape. These grooves pump water through the tread so the tire can maintain contact with the road to help resist hydroplaning.
Benefits
Directional tires deliver:
Excellent wet traction and hydroplaning resistance at high speeds
Superior dry performance because the tread dissipates heat while a solid centre rib keeps the tire rigid for high-speed stability
Commonly found on
Winter tires, which are often marked with a sidewall arrow to direct rotation
Symmetrical Tread Patterns
Symmetrical tread patterns are the most common type of tread design.
Features
Continuous ribs or tread blocks across the entire tread face that create a wavy design. The pattern on each side of the centre is the same, and multiple tire rotation positions are possible (front to back, side to side or diagonal)
Benefits
Symmetrical tires deliver:
Even wear and long tread life
Smooth, quiet driving
Spring to summer performance
Commonly found on
Asymmetrical Tread Patterns
Asymmetric tread patterns combine the features of the other tread designs for equally strong dry and wet performance. On asymmetrical tires, the sidewall will have 'inside' and 'outside' markings so you know which way the tires need to be mounted.
Features
Large outside tread blocks create a bigger contact patch and reduce tread squirm
Large lateral (side to side) grooves at the outside to pump water out the side of the tire
Smaller, independent tread blocks and grooves on the inside to increase road contact and improve grip
Benefits
Strong cornering grip
Strong stability and heat dissipation
Strong hydroplaning and slush planing resistance
Commonly found on