All about all-weather tires: The best year-round tire.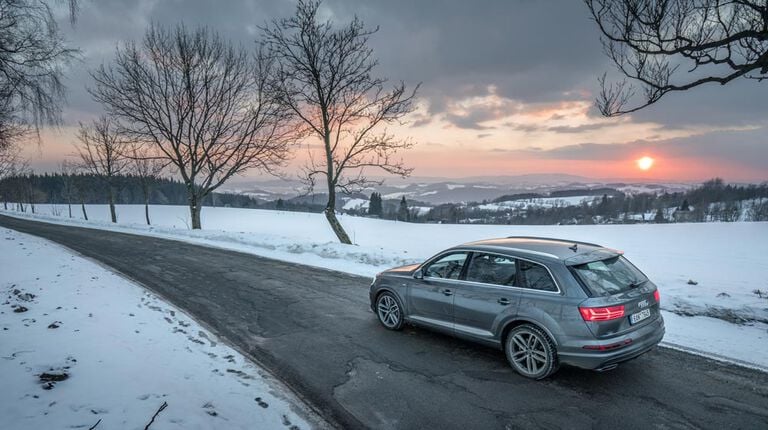 It's the best summer tire you can drive all year long, or the best winter tire you can drive all year long—depending on which time of year you're proudly admiring your new all-weather tires.
Unlike any other tire type available, all-weather tires were designed for reliable performance across temperatures and seasons (unlike all-season tires, which we call '3-seasons').
Because they're two great tires in one—and they help make roads safer for everyone in winter compared to all-seasons—they've become a popular and highly recommended choice for drivers who face milder conditions and prefer to run only one set of tires through the year.
Let's dive in to all of the reasons why all-weather tires are an exceptional year-round tire.
ALL-WEATHER TIRES: Safety through the seasons
All-weather tires have several unique features that allow them to provide sensitive handling and grip whatever the temperature, including:
Aggressive tread blocks that bite into snow and push away slush (all-seasons' tread channels clog and become slick)
Tread compound designed to stay soft, flexible and grippy at temperatures above and below +7C (that's the point all-seasons get cold and slippery)
In the spring, summer and fall you'll enjoy:
Strong braking on warm, bare asphalt and on cold, rainy days
Strong wet handling to help prevent hydroplaning
In the winter you'll enjoy:
Strong braking and cornering on soft and hard-packed snow
Strong slush handling to prevent slushplaning (slush is the second-most dangerous condition)
Reliable performance on wet and rough ice
All-weather tires actually bear the mountain snowflake designated winter tire symbol, proving they've passed snow traction requirements required for use on many mountain passes.
Year-round perks of driving on all-weather tires
Forget booking winter tire changes
Forget storing a second set of tires
Emit less C02 and save on fuel since all-weather tires are low rolling resistance (a lightly rolling tire that takes less energy for the tires to roll)
Good tread life (some all-weather tire models have tread warranties of 80,000 & 100,000 km)
Who should use all-weather tires?
All-weather tires are a safe choice for drivers who:
Face milder winter conditions
Live in urban centres
Prefer to run one set of tires to accommodate because of the convenience and savings
At Kal Tire, we carry a range of all-weather tires suited to a variety of vehicles and applications, including:
Passenger cars
Light trucks and SUV's
All-terrain all-weather tires
Commercial vehicles
To learn more, read our reviews and Kal's Tire Testing everyday driving performance results among our nearly 25+ all-weather tires we carry.