Which spare tire is right for you?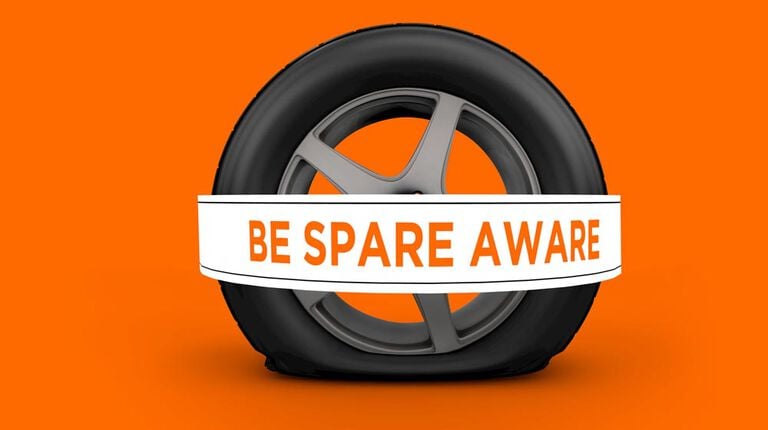 When you think of a spare tire, do you imagine a 'donut' compact spare tire or a clunky, full-size spare tire on a rim that you can barely lift on your own? Or maybe you've got a brand new vehicle that has no spare because it's outfitted with run-flat tires or a flat tire repair kit.
Today's drivers have a myriad of choices when it comes to spare tires, each offering a different lifespan and different levels of safety and performance in the event of a flat tire.
To help you better understand your options, we've created this handy guide to spare tires.
SPARE TIRE OPTION 1: The full-size spare tire
The full-size spare tire looks just like the other tires on your vehicle. As a matching spare tire, it'll be the same size as your other tires, and it could be the same brand or a different brand.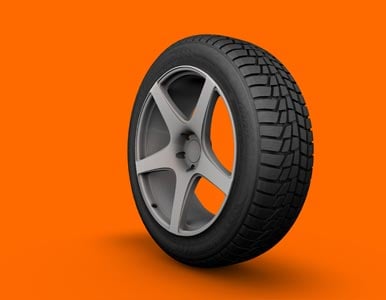 Advantages:
If you get a flat tire and you've got a full-size spare tire to install, you'll be able to drive on it as long as you like instead of having to race to a tire repair shop.
When you include a full-size spare in your regular tire rotation, you can extend the life of all five tires.
In addition to excellent safety and handling, full-size spares maintain a consistent look on your vehicle.
Disadvantages:
They're heavy. That means they're harder to lift and they can take a toll on your fuel economy.
They take up more space in your trunk if you don't have an undercarriage slot.
You may need to buy five tires and rotate them all evenly.
The full-size spare is a good choice for drivers who…spend a lot of time off-roading or drive long distances between service centres and want the optimum safety, handling and peace of mind of a full-size matching spare.
SPARE TIRE OPTION 2: The compact spare tire, AKA 'The Donut'
Think of a compact spare tire as the stand-in for your regular size road tires—a lightweight version you can use just long enough and at low enough speeds to reach a service station.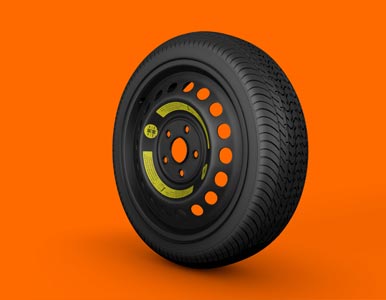 Advantages:
Since it's much smaller, you'll have more room for strollers, ball bags, camping gear, wardrobe changes, or whatever it is you need your trunk for.
The lighter weight of a donut spare tire may give better fuel economy compared to a full-size spare. And almost anyone can lift one of these.
Disadvantages:
They're only for emergency use to drive at a low maximum speed limit get you to a tire repair centre.
Compact spares can impact important vehicle features such as ABS, traction control and your speedometer.
A compact spare tire is a good choice for drivers who…mostly do city or commuter driving and you need a spare tire option that's light enough for you to handle on your own if need be.
SPARE TIRE OPTION 3: Run-flat tires (no spare tire)
Most run-flat tires are designed with reinforced sidewalls to give you enough tire pressure while deflating or deflated so you can make it to a service centre. That means there's no need for a spare tire.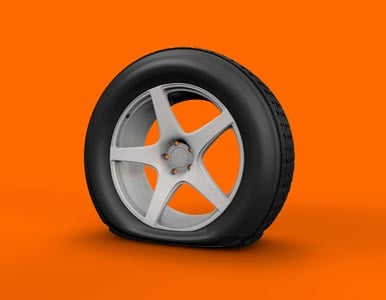 Advantages:
Heaps of trunk space.
Better fuel mileage.
Disadvantages:
Stiff sidewalls mean you're apt to feel bumps in the road a little more.
Generally, you can only travel 80 kilometres per hour for 80 kilometres on a deflating or deflated run-flat tire, which might not be far enough on a road trip in remote areas.
Not all flat run-flat tires are repairable, and they can be more expensive to replace.
Run-flat tires are a good choice for drivers who…don't like the idea of changing a flat tire and most of your travels are in or just outside the city.
SPARE TIRE OPTION 4: Repair and inflation kits (no spare)
To help drivers achieve better fuel economy and save space, some vehicle manufacturers have replaced spare tires with a flat tire repair kit, aka emergency inflators and tire repair supplies such as a foam or sealant.


Advantages:
They take up about as much space as a hair dryer.
Disadvantages:
They can only temporarily repair punctures less than a quarter of an inch in size on the tread (face) of the tire, not the sidewall.
Sealants and foam can also compromise the integrity of your tire, and it may not be repairable after using one of these products.
You'll need to read up and maybe even watch videos to understand how and when to safely use these products.