7-Step guide: How to change a flat tire.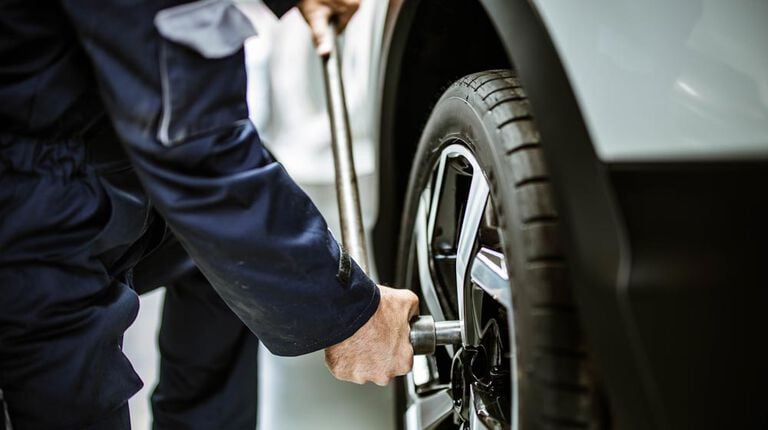 Would you know what to do if you got a flat tire in the middle of nowhere without cell phone reception or access to roadside assistance? Knowing how to change a flat tire is a skill that's gone by the wayside, but as long as vehicles have tires, it's a skill worth learning.
Spend a few minutes familiarizing yourself on how to change a tire with these 7 easy steps. Make sure you have the proper tools and that your vehicle is not obstructing traffic. Lay out reflector cones if you have them, and make sure you replace or repair your flat tire as soon as you are able. Kal Tire can help with that!
What tools do you need to change a flat tire?
Store these tools in the trunk of your vehicle at all times:
Jack
Cross-shaped lug wrench
Pry bar or flathead screwdriver
Spare tire
How to change a flat tire:
1. Remove the wheel cover (if you have steel wheels):
Removing your wheel cover is similar to removing the lid off a can of paint. Use a flathead screwdriver and pry it against the wheel until it pops off.
2. Get out your spare tire, secure your vehicle, and loosen the lug nuts slightly:
Make sure to block your wheels at the opposite side of the flat tire with bricks, rocks, or wood to prevent your vehicle from rolling. Use your lug wrench to loosen the lug nuts, but do not remove them. If you have aftermarket wheels, you'll need to find the lug key that goes with your wheel fasteners.
3. Jack up your vehicle:
If you have a hydraulic jack, insert the handle and pump up and down. With a scissor jack, insert the wrench or rod and crank it.
4. Remove your flat tire:
Finish taking the lug nuts off with your hand. Put your hands on each side of the flat tire and pull it towards your body. Your flat should slide along the lug bolts until it is free. Roll the tire to the back of your vehicle.
5. Lift your spare onto the lug bolts and replace the lug nuts:
Use caution to lift the spare into place on the lug bolts. Use your wrench to secure the lug nuts into place.
6. Lower your vehicle and tighten the lugnuts:
Crank your jack in the opposite direction to bring your vehicle back down to the ground entirely. Tighten your lug nuts as much as possible with your lug wrench.
7. Put your wheel cover back on:
Use your hands instead of a wrench to avoid denting your wheel cover or hub cap. Pat the cover into place with your palm.
As soon as you are able, visit a Kal Tire service centre near you or schedule an appointment online to have your flat tire repaired or replaced. We offer complementary repair service on all tires purchased at Kal Tire along with free tire rotations, road hazard protection, lifetime balancing, and tire inflation. Read our customer care plan for more information.