Driving a vehicle exposed to flooding & mud: What to know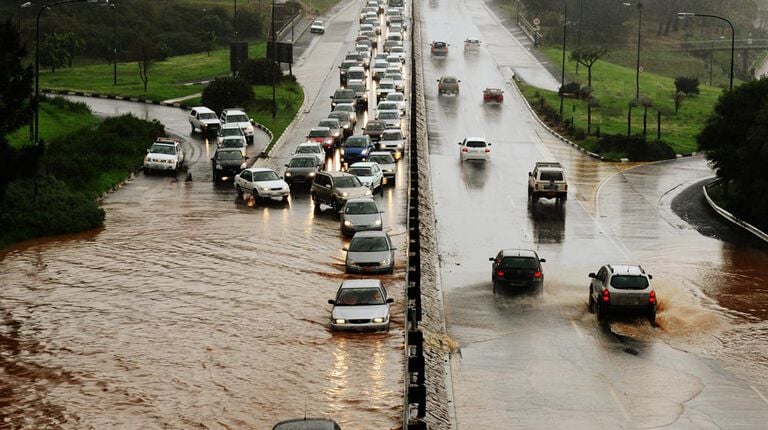 When severe rainfall and flooding struck southern BC recently, many were forced to drive their vehicles through the water, mud and debris—or leave their vehicles behind in areas at risk of flooding. If your vehicle was exposed to floodwaters, what do you need to know to help ensure your driving safety?
If your vehicle was exposed to water below the wheel or left behind to sit in water or mud
Vehicles are designed to withstand a bit of rain and water. With water-tight seals and waterproof electrical components, most vehicles can handle light rainstorms and small amounts of water exposure.
During recent storms, if you drove through puddles lower than the mid point of your wheel and tire or you had to leave your vehicle behind, here are some precautions to take:
Check all fluid levels you will want to make sure your fluids don't look murky, cloudy or are at a level greater than maxiumum.
Check for and remove any standing water that's entered the interior of the vehicle with a shop vac or wet vac.
Listen to your engine for any sputtering or lack or power. If the engine feels 'off,' get your vehicle inspected right away.
Check the body of the vehicle for scratches, dents and dings caused by passing debris, log these issues and report to your insurance broker.
Limit your driving until you're sure your vehicle is performing as it should.
If your vehicle was exposed to water above the wheel
If your vehicle was even half-submerged in water or you drove through water above the mid-axle of your tire, it's hard to determine what damage may have occurred and it is best to have your vehicle inspected by a certified technician and contact your insurance provider.
Serious engine damage can occur if water enters through the air filter system or if it's brought into the engine, transmission or differentials. Even if it seems to be running OK, get your vehicle inspected and:
Get all fluids checked by a certified technician.
Pay attention to any issues with electrical systems (lights, door locks, car starter, etc.). Water can wreak havoc on electrical systems and if water has pooled, these issues could turn up later, which is why it's best to work with your insurance provider at the outset, even if you don't notice electrical issues right away.
If you're driving in areas affected by heavy rainfall:
Avoid driving through puddles. It can be hard to gauge the true depth of water, and even a surface of 3-6 cm of water can create poor driving conditions.
The good news is, the tires on your vehicle should be fine.
At Kal Tire, we care deeply about the affected communities in BC. Please take care and drive safe.