A checklist to get your car winter ready.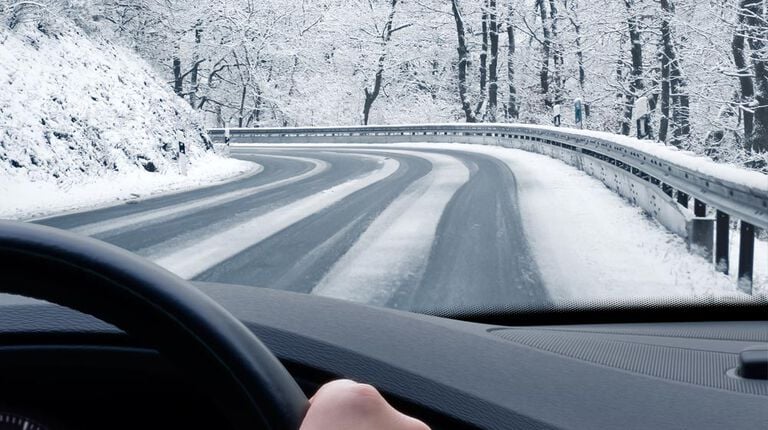 Winter is coming, and that means winterizing your vehicle this fall. With this handy checklist, getting your vehicle ready is easy. But, if you're looking to save time, your local Kal Tire team members are qualified to get your vehicle winter ready!
Tires
The specialized rubber compound in your winter tires allows them to stay flexible and grip snow and ice for optimum traction. Due to the unique rubber makeup, summer months degrade winter tires quickly.
To learn more about winter compounds, check out, What happens when you use winter tires year round?
For the best traction, make sure you also have sufficient tread depth on your tires. Unsure of how to check? Read, How to Measure Tread Depth on Your Tires for tips and on what each tread depth level means.
Installation
Tire manufacturers recommend installing winter tires as soon as the temperature is consistently at +7 degrees Celsius or below.
Air Pressure
Cold air can make the pressure in your tire drop significantly, affecting your vehicle's ability to bite ice and snow. Don't forget to check your spare tire's pressure and ensure your tire changing kit is intact and in your trunk.
Fluids & Heating Systems
The importance of keeping your fluids fresh and topped up is insurmountable. Optimal engine temperatures run between 195 degrees Celsius and 220 degrees Celsius. Without proper lubrication, the engine will seize from the friction and high heat produced. Below is a list of fluids and engine components that require maintenance this fall to keep your engine healthy.
Engine Oil
Typically, gas engines require the oil and filter to be serviced every 5,000 km. Be sure to check the vehicle manual for manufacturer recommendations. Often, you'll be asked by our team members, "Would you like synthetic or regular oil today?"
Here's a breakdown of the benefits of each type:
Synthetic
This produces fewer emissions due to the uniform molecular size that causes less friction. Enjoy the benefits of better fuel economy, longer intervals between oil services (10,000 km vs. 5,000 km), better all-weather protection, and much more.
Conventional
This oil is better suited for older vehicle models because it has a higher viscosity than synthetic oil, which results in better lubrication. It is also an economical choice for your wallet.
Speak with your local Kal Tire store to find the best fit for your engine.
Fuel
It is imperative to keep your gas tank at least half full in winter. This prevents condensation and ice from building up in your fuel line when the engine is running in those instances when you're warming your vehicle or stuck in traffic.
Heating, Cooling, and Exhaust
The A/C system's purpose is to defrost and de-humidify the inside of your vehicle in winter. It's crucial to make sure that it's working as manufactured.
You will also want to confirm your exhaust system is intact. Leaking pipes can cause carbon monoxide poisoning and decrease the efficiency of your vehicle. While you are at it, make sure that your block heater is still working!
Mechanical Components
There are several moving parts in a vehicle: from the engine compartment, through to the suspension, and into your wheels. It's vital to keep those parts moving freely and performing at their best.
Wiper Blades
The rubber should be changed at least twice a year so it can effectively wipe away blowing snow and rain.
Battery Connections
Check your battery or have it checked at your local Kal Tire store to ensure it will get your car started and running through the winter.
Brakes
Optimum braking in the winter is critical for your vehicle to perform on snow and ice. Our skilled team members can inspect, diagnose, and service brake systems using OEM parts — supported by our 3-year/ 40,000 km warranty. If we sell it, we guarantee it.
Alignment
The steering wheel is connected to more than just your hands. The steering column links your mind to the steering and suspension components under your feet. These parts wear out under normal driving conditions, and even faster with potholes and other road hazards. To extend tire life, it's vital to check your alignment yearly.
Not sure if you need a wheel alignment? Read, Do You Need a Wheel Alignment? to assess your vehicle's needs.
Emergency Supplies
Keep a personal winter survival kit in your vehicle stocked with the following supplies:
First aid kit
Bottled water
Health bars
Boots, gloves, and an extra winter coat
Remember to dress for winter every day. Even if it looks sunny and mild when you head out, you could face a blizzard on the way home.
Don't forget an emergency kit for your vehicle with these items:
Booster cables
Extra oil and windshield washer fluid
Lock de-icer, flashlight, flares, safety triangles
Ice scraper, shovel, a bag of salt or gravel
Tire chains