Questions to ask about rotor and brake replacement cost and brake service cost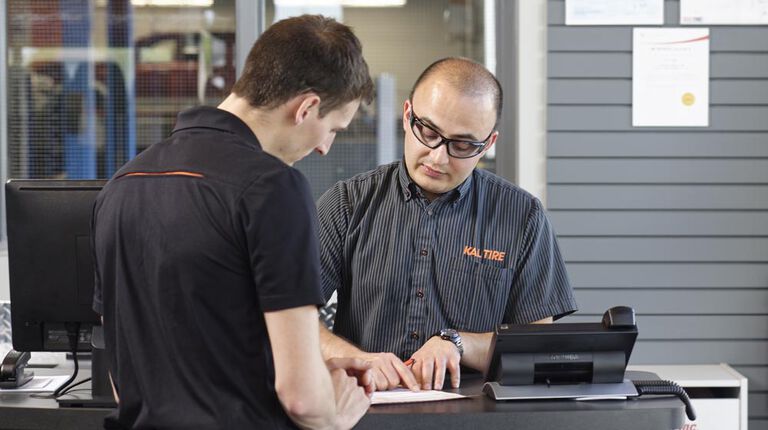 Receiving a quote from your mechanic can be overwhelming. From confusing part names to mechanical lingo, these spreadsheet-style estimates often leave clients feeling unsure about the brake repairs their vehicle needs.
But getting a quote for mechanic work doesn't need to cause uncertainty.
Here are five questions to help understand what's included in a brake repair quote.
1. Is the quote all-inclusive of parts and labour?
Ask your mechanic if the quote they provided includes labour. It helps to know ahead of time whether or not labour is included in the estimate to avoid any surprises.
2. Is the quote easy to read and understand?
Each company has its own invoicing system. Make sure the quote is easy to understand and includes a clear representation of the parts, labour, and a total estimate.
Kal Tire's simple, all-in brake repair quotes:
are standard rates according to vehicle make and model
include all required parts, labour and materials
can be shared with you in less than a minute
When brake estimates are standard and easier to understand, you have peace of mind with a clear picture of the work being performed, fair pricing and that there won't be any hidden or surprise costs.
3. Does the quote include unneeded additional parts?
If you don't know what the parts are on your quote, ask the mechanic or shopkeeper. Some parts may only be a suggestion, not a requirement of the service at hand.
At Kal Tire, our all-in estimates include all shop supplies and materials needed to complete the job.
4. Are the parts original equipment manufacturer (OEM) recommended or better?
You want to ensure the parts listed on your quote meet the manufacturer's recommendations. OEM recommendations are high quality and may come with a superior warranty.
5. Is there warranty coverage on both brake parts and the service?
If something does happen, you need to know the warranty covers labour.
Some brake repair stores have warranties of one or maybe two years. Kal Tire's brake service work gives you a warranty of three years or 40,000 km, and includes all parts and labour.
Kal Tire performs a free visual brake inspection as part of all tire and vehicle services. These quick checks help ensure your safety on the road and can identify any issues with your brakes. And, if brake work is required, this free inspection can identify whether your brakes require a replacement or simply a professional clean and service.