How to get the most out of your trailer tires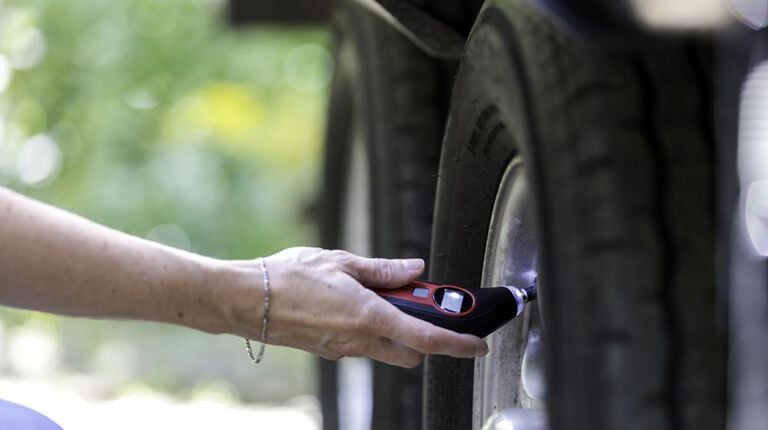 There's nothing better than hitting the open road with your new trailer in tow, whether it's for a weekend getaway or to get your boat in the water. And while you may be confident that your truck's summer tires are up for the challenge, what about the trailer tires?
Unlike the tires on your car or truck, trailer tires tend to wear due to time exposure rather than kilometres travelled.
Whether they're sitting on your new fifth wheel, travel trailer, boat, toy or utility trailer, chances are your tires spend the majority of their time sitting in one location.
So, how do you maximize the life of your tires to stay safe next time your trailer is in tow?
It's easier than you might think.
Monitor your trailer tires
Wear on your trailer tires may appear different than on your everyday vehicle.
But, if you look closely enough and know what to look for, you can help ensure that you're getting the most out of these special tires.
Optimal tire pressure is key to ensuring long life in your trailer tires. Underinflation causes excessive heat that breaks down the internal structure of the tire. Even when your trailer is stationary, you should ensure that your tires are properly inflated.
Over time, as your tires face the elements, you may start to notice surface cracks along the sidewall of your tire. These cracks, often called weather cracking, are normal and a direct result of the sun, summer heat, and winter chill.
Today's rubber compounds are built to withstand the elements with anti-ageing properties. However, weather cracking indicates that your tires are doing their job: withstanding the elements and the sunlight.
How to prevent wear on your trailer tires
As weather cracking is a common occurrence in trailer tires that remain dormant for long periods, protecting your tires from harmful UV rays is critical. So how do you stop the sun?
Use tire covers
Park your fifth wheel, travel trailer, or toy trailer in the garage if you can
Avoid leaving the trailer in direct sunlight
By mitigating the effects of the sun, you can help ensure a long life for your tires.
In addition to combating the elements, rotating the tires on your trailer promotes even treadwear and weight distribution.
When to replace your trailer tires
If your tires are protected from the elements and rotated often, they will likely time out before they wear out due to the long periods spent dormant.
After five or six years of use, bring your trailer tires in for an inspection regardless of how often they hit the open road or how far they have travelled.
Most tire manufacturers recommend replacing your tires after seven years of service to ensure your trailer is ready to go when you are.