Choosing the best trailer tires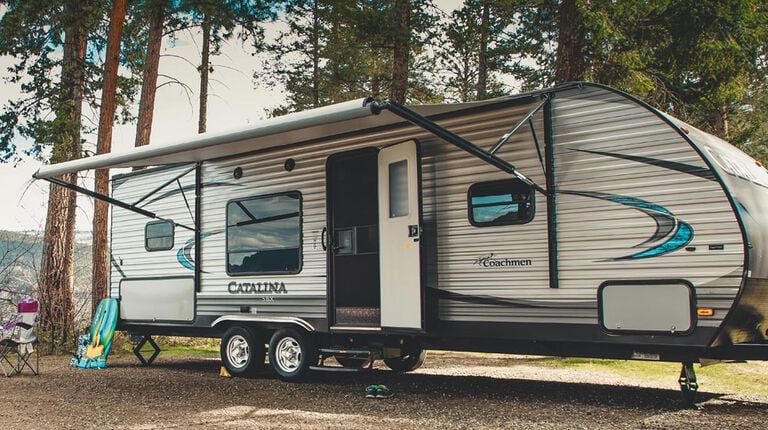 The weather is warming, the sun is shining, and you're ready to hitch your recreational or boat trailer and hit the open road for a much-needed weekend getaway.
But how ready are your trailer tires? They're a critical piece of the road trip puzzle that can't be overlooked. And, if they're well-maintained, quality trailer tires are an investment that will last you years to come.
What is the best trailer tire for my recreational, boat, or utility trailer?
Opting for the best trailer tire not only helps optimize your trailer for a smooth and safe road trip but promotes long life and relationship between you and your tires.
When looking for a new set of tires for your recreational trailer owner consider special trailer (ST) tires. These tires are designed with the road in mind, whether you're towing a fifth wheel or tent trailer, RV, boat, or utility trailer.
While it is possible to install LT, or light truck, tires on your trailer, LT tires lack the rigidity of a dedicated ST tire and can cause swaying and handling issues on the road. A stiff, narrow ST tire, on the other hand, promotes:
Better towing stability
Sway reduction
Temperature management to increase the tire's longevity
How do I pick the right trailer tire?
What's best for your trailer may not be the best for another. When purchasing trailer tires, it's important to consult the owner's manual to ensure you pick the appropriate trailer tires to match your trailer's tire and load capacity.
Likely found within the pages of your owner manual for most trailers or on the door placard in an RV, you should search for information regarding:
Optimal tire size
GVWR or gross vehicle weight rating or the maximum weight the vehicle can carry when fully loaded
Gross axle weight rating or the maximum weight capacity of each axle
Load rating
Recommended tire pressure
Ensuring that your new tires meet the appropriate load index helps avoid stressing the casing that can lead to tire failure and blowouts, especially on hot summer days.
Tires are an investment. They're the workhorse that keeps your trailer on the road, day-in, day-out. And while there is no shortage of manufacturers, we recommend choosing a name brand with a good reputation.
If you opt for the best and take care of the tires on your recreational trailer, RV, boat, or utility trailer, you can rest assured that those tires will be with you for many seasons to come.
But, you never know what await on the open road. So, always remember to bring your spare.