Can you use all-season tires (3-seasons) in winter?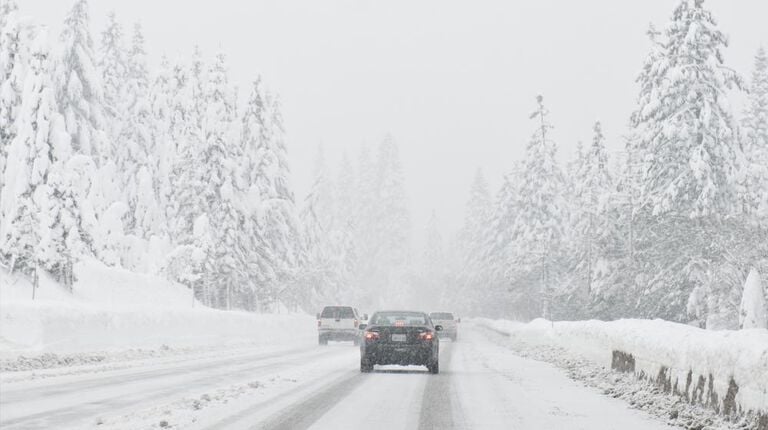 At Kal Tire, we call all-season tires '3-season tires.' That's because they were designed to offer safe performance in three seasons: spring, summer and fall. Let's explore what happens when you try to use all-seasons in the winter.
1. At +7C 3-season tires (all-season tires) get cold and hard
3-season tires have a harder tread compound designed to deliver:
Long tread life
Quiet driving
Traction on wet and dry roads in the warm months
When the temperatures reach +7C (yes above), that rubber compound becomes cold and hard, and compromises your:
Braking distance
Cornering grip
In fact, Kal's Tire Testing (performed independently by professional testers), showed on average, all-weather tires stop more than 6.5 m shorter than all-season tires when braking in snow and over 2.3 m shorter when on ice. (A large pick-up truck is 5.6 m in length.)
Even if you live in an area with milder winters, remember it's not about the snow, it's about the temperature. If your thermometer regularly hovers below +7C, and you want to run one tire year-round, all-weather tires would be a safer option as they have a soft, flexible rubber compound designed to offer reliable year-round grip in temperatures above and below +7C.
2. The tread pattern of 3-season tires (all-season tires) gets clogged & slippery
The tread pattern on a 3-season tire (all-season tire) is 'closed.' That means it has small tread blocks with narrow grooves between them. This tread pattern helps channel away rain in the warm months, but in winter conditions, the tread:
Becomes clogged with snow
Can't bite into snow or ice
Creates a 'snow on snow' or 'ice on ice' slippery surface
Winter tires and all-weather tires, however, have bigger tread blocks, wider grooves and tiny sipe openings designed to:
bite into snow and ice
push away snow and slush (the second-most dangerous winter driving conditions)
maintain road contact
By using your all-season tires in the warm months and winter tires in the colder months—or using all-weather tires as a safe, year-round option—you enjoy optimum safety and handling when it counts.