What's included in a visual brake inspection?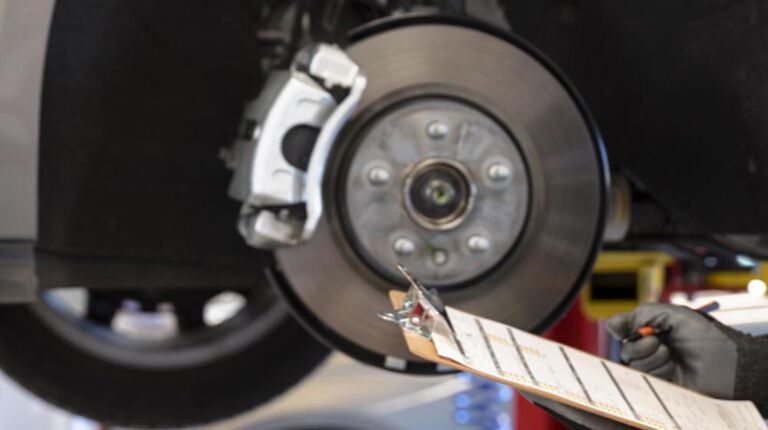 Free visual brake inspections help ensure that your vehicle is safe for the road, whether you're simply traversing downtown traffic or hitting the highway for a weekend getaway.
These quick checks, which we perform as part of all tire and vehicle services, help our team of experts identify any potential issues before they become a cause for concern.
As we visually inspect brakes, we're looking at three major components­—brake pads, brake rotors, and hydraulics such as calipers, hoses and lines —for any signs of warn or wearing parts, brake dust, irregular wear, or fluid leaks.
Inspecting your vehicle's brake pads
Our mechanics search for signs of wear on the brake pads and estimate the pad's remaining life by measuring the remaining thickness. While thin or warped brake pads are reason enough to bring your vehicle in for a full inspection, they are thankfully inspected as a routine service by our experts.
Monitoring brake rotors
Depending on the spacing and design of your wheel, you may be able to see a shining silver disc behind the alloy spokes. Brake discs should be shiny and free of blemishes or pronounced grooves. Thin lines, meanwhile, are signs of normal wear.
Hydraulics
As we transition from slushy Canadian winter roads to sun-baked asphalt, metal brake lines can become corroded from exposure to salt or ice-melting chemical solutions. Our mechanic experts also inspect rubber-coated lines to ensure the coating remains supple and that your brake calipers display no evidence of sticking, seizing or binding.
Shocks, struts, and steering components are also accounted for in our quick and free visual inspection.
If and when our experts identify signs of wear, you may not need to foot a considerable repair bill. Your brakes may only require a proper clean and service, not a full replacement, to ensure your safety behind the wheel.
And our team of mechanical experts can take care of that service and maintenance for you.
This free, cursory inspection can help keep you and your vehicle safe and catch any issues with your brakes early.