3 Reasons to choose tire storage at Kal's Tire Lodge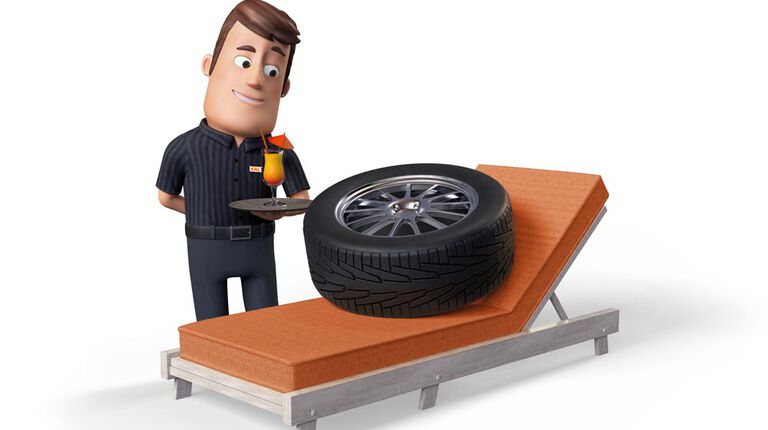 When it comes to safe driving in winter, many Canadians choose to use dedicated winter tires on a second set of rims. While having the best tire for the conditions means improved cornering and braking, you also don't want to break your back hauling them in and out of the already cramped basement every fall and spring. Thankfully, Kal Tire has the perfect tire storage solution: Kal's Tire Lodge.
You can think of the Tire Lodge as a luxury retreat for your tires (minus the heated swimming pool and room service). When you come into your local Kal Tire store to have your winter tires installed, our technicians will roll them away for safe storage until you're ready to put them back on in the spring.
And, of course, we can provide the same tire storage treatment for your winter tires. That way, you never have to worry about them because we store them in a facility that's:
Safe and secure
Protected from the elements
Fully insured against loss, theft or damage
Your winter tires and summer tires (or 3-season tires) are stored for one season at a time (up to nine months!)
Here are a few other reasons you might want to consider this service…
1. Save your back
Tires can be heavy and cumbersome, especially when they're mounted on wheels. Rather than lug them out twice a year for winter tire changes, let us do the heavy lifting for you.
Tires can also be quite dirty. Unless you're wearing coveralls, you'll risk staining up your clothes, not to mention the inside of your vehicle.
2. Free up space in your home
Like many Canadians, you're probably familiar with the sensation of having not quite enough room for all the activities you enjoy. If you have adequate garage space, you might have room for tire storage. But that's not the reality for people who live in:
Cosy single-family homes
Apartments
Condos
Townhouses
Even if you rent a self-storage unit, you're still left with the burden of hauling your tires to and fro every time you want to change them over. Kal's Tire Lodge takes care of the tire storage plus the heavy lifting!
3. Protect your tires
If you don't have ample room indoors to store your tires when they're not in use, you might be tempted to place them outdoors. This isn't advisable because the rubber compounds in your tires can be adversely affected by:
UV radiation (i.e. sunlight)
Extreme temperatures
When you use Kal's Tire Lodge, your tires will be stored in racks to keep them off the ground and protected from the elements.
To learn other ways you can prolong the life of your tires, read our post: 5 Ways to Make Your Tires Last Longer.