Do I need to change all four winter tires?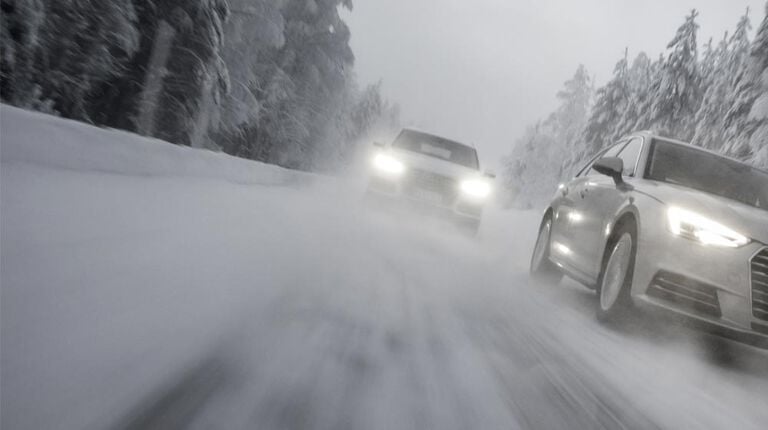 Are you wondering if you need to change all four winter tires, or if you can get away with just two? For optimum safety—and to abide regulations on some Canadian highways—we recommend installing all four winter tires.
In some Canadian provinces, including BC, vehicles are required to be outfitted with winter tires and/or carry chains on mountain passes from Oct. 1 to March 31. When you have two dedicated winter tires on the front and two on the back, you can improve your vehicle's handling and safety.
Why are two winter tires not enough?
It was once common practice for vehicle owners to exchange just two of their 3-season (all-season) tires for a single pair of winter tires. The logic was that if you placed the winters on the driving axle, you'd have the necessary traction to control your vehicle in winter conditions.
However, modern vehicle safety testing methods have proven this line of thinking to be false.
When temperatures drop to +7C, 3-season (all-season) tires have a rubber compound that turns cold and hard, reducing critical grip capabilities during braking and steering. All-weather and winter tires have a rubber compound that stays soft for superior grip on ice, snow, slush and even mud.
That's why it is essential to drive with four matching winter or all-weather tires when the temperature drops.
Why should you drive on a matched set of four winter tires?
Like any set of tires, winter tires perform best when they're part of a matched set. Substituting one or more tires for one that is older can cause an imbalance, and impair safety and comfort.
When you buy a set of winter or all-weather tires, they should include the same:
Size
Tread pattern
Tread depth
Pressure rating
Having your winter tires match is essential to maintain:
Traction in wintry conditions
Cornering
Braking
Why is tread depth important?
Diminished tire tread can affect the way your winter tires handle the road in wintry conditions.
The typical lifespan of a set of winter tires is two-to-three seasons. However, if you drive your vehicle frequently in winter, this can affect your tires' tread depth.
It is vital to make sure that all four winter tires have a tread depth of at least 6/32-inches deep or deeper. When your tire tread reaches 2/32-inches deep or less, it is time to change them.
To learn more, read our article How Do You Measure Tread Depth on Your Tires?
Which winter tires are best for my vehicle?
Online or in store, a Kal Tire team member can help you find the best set of winter tires or all-weather tires to suit your driving needs and budget. Your vehicle's owner manual can also indicate the original equipment recommended tire:
Size
Speed rating
Load capacity