Choosing your best ATV tires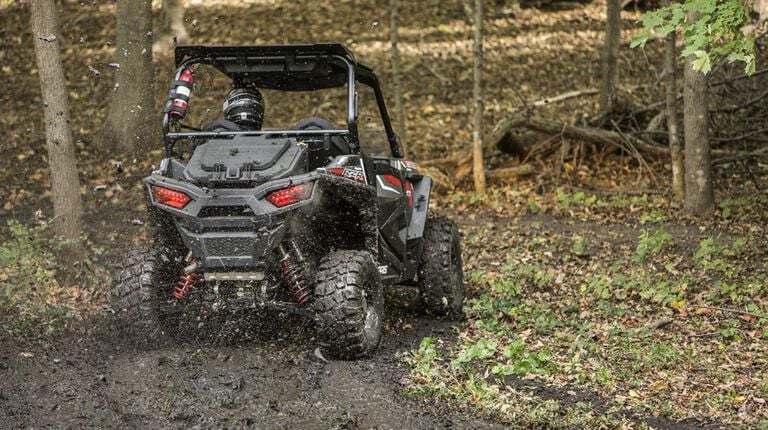 They need to deliver traction on the wettest, hilliest trails or superb grip in the slickest mud, and stand up to rocks. In Canada, ATV tires have a tough job, which is why it's all the more important to make sure you've got the best ATV tires for your riding needs.
How do you choose the right ATV tires for your kind of riding? In this guide, we'll walk you through the different types of ATV tires available and how their features help you get the most out of your ride in various conditions.
What types of ATV tires are available?
The most common types of ATV tires in Canada are:
All-purpose ATV tires
Mud off-road ATV tires
Sport/performance off-road ATV tires
Hard-packed turf off-road ATV tires
Save for an all-purpose ATV tire, most modern ATV tires are designed to perform in specific conditions. From the rubber compound and the carcass to the tread blocks and pattern, ATV tires are built to give grip and durability on a specific surface.
What design features make ATV tires suitable to different surfaces?
1. Tread pattern
On a tire with a directional tread (meant to roll in only one direction), side-to-side grooves on both sides of the tire point toward the centre, creating a 'v' shape. These grooves pump water through the tread so the tire can maintain contact with the road to help resist hydroplaning. If you're hitting the mud bogs or even wet conditions, you'll appreciate having a directional tread pattern.
2. Lugs
These are the blocks on the tread that bite into the surface for grip and traction. The 'luggier' (thicker, deeper) the lugs, the better the ATV tire is to cut through slick surfaces like mud. Mud tires have the most aggressive lugs among the types of ATV tires. Sometimes ATV tires will also have lugs that wrap around the shoulder of the tire for extra bite through turns in slippery conditions.
Other tread patterns, like those of motocross ATV tires, have smaller lugs placed in asymmetrical patterns to improve traction in soft loam. The lugs on off-road tires tend to be deep but short for grip across off-road surfaces, from dirt to gravel.
3. Ply rating
Ply rating tells you how strong a tire is and indicates higher inflation pressure capabilities for greater load capacity. ATV tires usually have a ply rating ranging from 2 to 6-ply. If you're using your four-wheeler for hauling, the 6-ply is probably the best ATV tires choice for you.
Let's take a closer look at how different types of ATV tires are designed and what to look for when you're on the hunt for just the right ATV tire for you.
What's the difference between all-purpose, mud off-road, sport off-road and hard-packed turf off-road ATV tires?
All-purpose off-road ATV tires
Features and benefits:
Thick lugs for traction in all terrains, including mud
Smooth, comfortable riding for daily trail rides
Long tread life
Increased pressure capabilities for greater load capacity and handling in hard-pack conditions
Mud off-road ATV tires
Features:
Aggressive lugs resist punctures and push away mud
Multi-ply carcass for rugged durability
Sport/performance off-road ATV tires
Features:
Lightweight construction for greater speed
Mid-size lugs for strong traction
Heavy duty sidewall resists debris
Hard-packed turf off-road ATV tires
Features:
Tight tread patterns maintain stability and ride comfort on pavement, concrete and hard-packed soil
Wider profiles help maintain contact with hard surfaces for smooth, level riding