Buying wheels? What to know before upgrading to aftermarket wheels.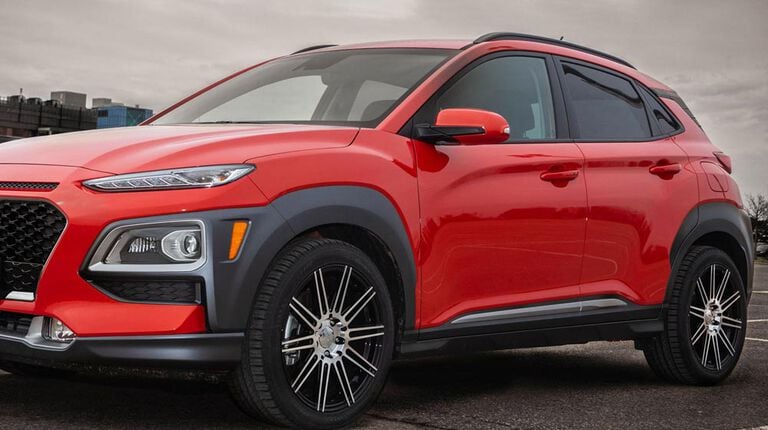 Now that you've got the perfect ride, you want your wheels to say something about you too. Investing in custom or aftermarket wheels is one of the easiest ways to dramatically transform the look of your vehicle. Now all you find to do is find just the right wheels, but there's a lot to consider and a lot of choices.
In this guide, we'll walk you through what you need to know before upgrading your wheels.
1. Where do you take your wheels?
Most wheel manufacturers divide their product lines according to cars, light trucks and SUV's, so start your search in the right category so you don't accidentally fall in love with a wheel that only has sizes for cars.
It's also important to think about how you use your vehicle. If your wheels are in for off-roading, a smaller wheel will give more sidewall flex to protect the wheel from damage. Or if you stay on the pavement, maybe you want to plus size your wheels by increasing the diameter and improving the look and handling.
2. Are these your summer wheels or your winter wheels?
If you are investing in a nice set of aftermarket wheels, you may want to also think about having a second set of winter wheels to protect your check-these-out summer wheels.
For winter, aluminum wheels are light, rust-resistant and give your vehicle that polished, customized look. Steel wheels are heavier and offer more basic designs, but they're also more economical.
3. What's your size?
If you're using your existing tires, it's important to know the size of your tires because the diameter of the rim needs to match your tires.
For example, if your tires are size 205/55R/16, you need wheels with a 16-inch diameter.
However, if you're starting out fresh with a whole new tire and wheels package, you can search by vehicle, and we'll do all the calculating for you so you can rest assured everything has been measured and matched perfectly—or you can search by wheel size and bolt pattern. Searching this way will show you a greater number of options, including different offsets, so you can play with different wheel looks such as wider stances or more aggressive designs.
Here are the four basic fitment figures you'll come across as you shop for wheels by size or bolt pattern:
Rim size/diameter - This number, measured in inches, should be the same for the wheels as the tires on your car if you're buying just wheels, not a wheel and tire package.
Bolt pattern - Every vehicle model will have a specific bolt pattern for its wheels so the studs match up with the axle. Heavy duty trucks need more lugs to support greater weight, so they could have an 8 bolt pattern, where a tiny car might have only a 3. You can find out your vehicle's bolt pattern with an online search of your make and model, and the bolt pattern. Bolt patterns indicate the diameter of a circle (an imaginary circle) formed by joining the centres of all the wheels lugs. Your bolt pattern might be based on 4, 5, 6 or 8-lug holes. For example, a bolt pattern of 5×114.3 mm would be measured like this: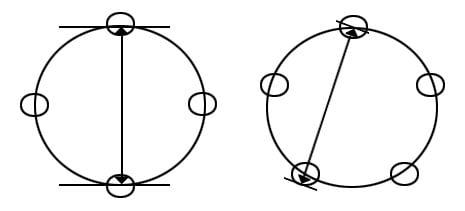 Lug count - This is where it gets tricky, and where it's best to have an expert on your side. Most cars have a lug count of five, BUT, they can be drilled in at different diameters depending on the manufacturer and the type of vehicle (cars to trucks). For example, European rims could have a lug count of 5×112 mm while a Japanese rim could measure 5×114.3 mm.
Offset - The offset number indicates where the wheel sits in relation to your car's undercarriage. For example, the centre of the wheel on most muscle cars is pretty deep, with half of more of the wheel sitting outside the axle.
See how the centre of this Black Iron Kodiak has a big lip? The offset is -24.
When it comes to offset, we recommend staying close to the Original Equipment specs to ensure your vehicle drives the way the manufacturer intended.
4. What's your style?
The world of wheel finishes has its own language, and we're going to help you get fluent in wheel style!
Here's what you need to know about all the wheel finish options you can choose from:
Black – gloss, satin or matte
Gunmetal (a fancy name for gray) – light, dark, matte and gloss
Silver – just like quarters!
Machined & milled – these techniques expose the aluminum under an already painted wheel to change the look with contrast. The wheel is then clear coated to protect the aluminum from corroding
Chrome – that shiny metal that instantly elevates your vehicle's look and your wheel's durability
You can also shop by wheel brands if you already have your eye on a certain make or look you've seen on other trucks.
5. What's your budget?
Some of the best rims—especially custom designs—can run up to $4,000 for a set, or you can find inexpensive, less tailored options for as low as $500 a set.
Here are some of the factors that determine the cost of wheels:
The bigger the wheel, the higher the price tag
Chrome tends to cost at least 30 per cent more than paint
The type of construction and the level of handmade customization that follows, from gravity-cast or pressure-cast aluminum wheels all the way to flow-form and forged rim design
6. How does it all come together?
What you really want to know is, how will these new wheels look on your vehicle? See firsthand how various styles and finishes will look on your exact vehicle model with our very handy wheel visualizer!